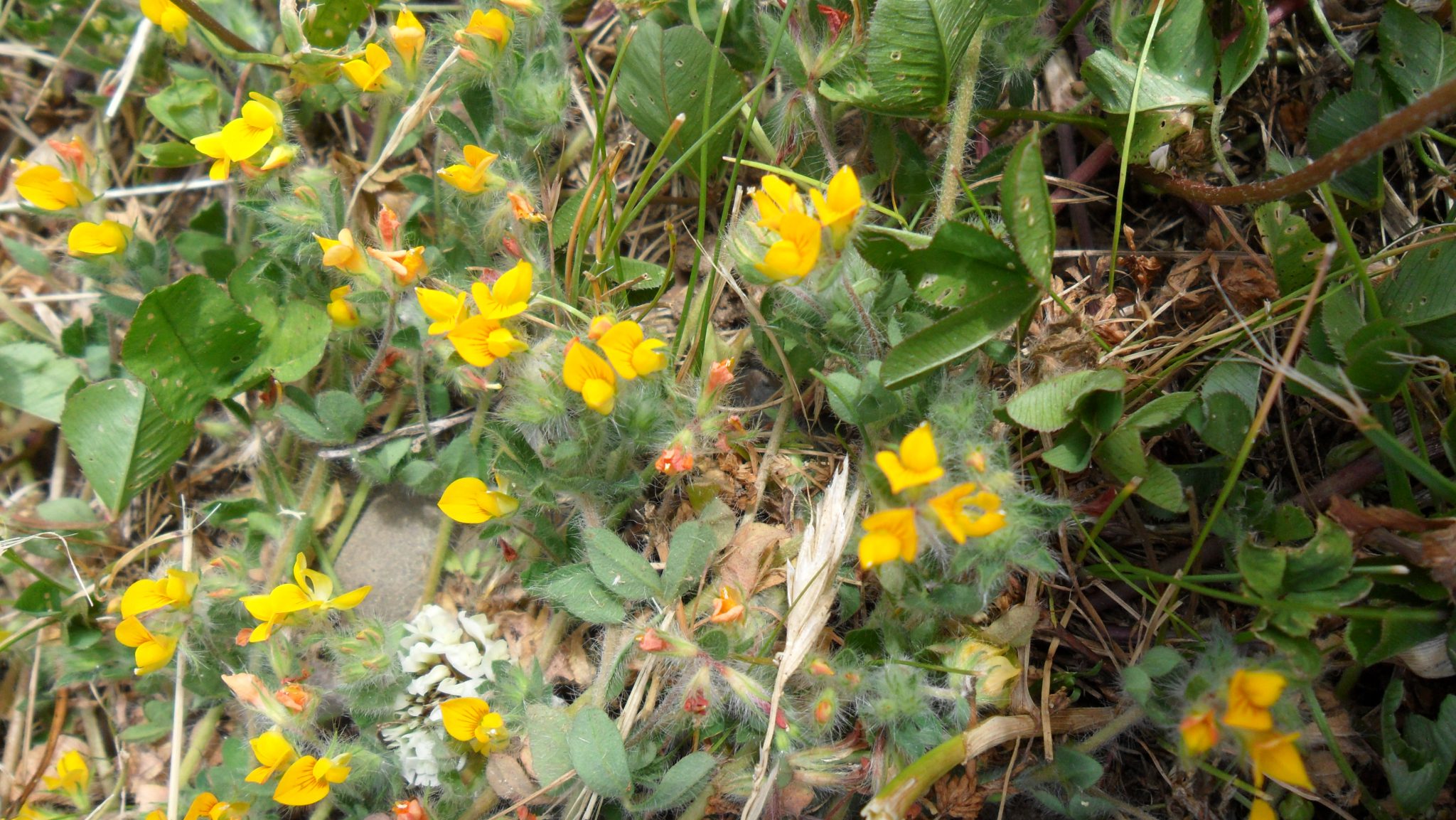 Recording in Co. Wexford (v.c. H12) in 2018
2018 was another exceptional year of recording. The main aim was to try and visit as many of the monads with no records. This was almost achieved with just two monad with no records, out of the 2559 monads in the county. We have also been trying to record 100 plus species per monad. There were 158 monads still needing to top the 100 mark by the end of the year, many are around the margin of the county where the majority of the monad is in the neighbouring county or the sea. Overall the average number of species recorded for each monad runs at 158, a much higher total than I had expected.
15 new species and hybrids were added to the county list and, if you include subspecies and varieties, there are 17. Of these, 4 are native and include 1 species, 1 subspecies, 1 hybrid and a variety.
The most surprising of the 17 must be Thelypteris palustris (Marsh Fern), as there was a very large population of this native fern in an open area of the fen behind the dunes at Ballinesker (T1128), and scattered patches under the willow carr.
I also found the hybrid Epilobium x novae-civitatis (E. ciliatum (American Willowherb) x E. hirsutum (Great Willowherb)), which had formed a large clump in a conifer plantation at Cullentra (T1548447032).
The subspecies was found by Alexis Fitzgerald: Festuca ovina subsp. hirtula (Sheep's-fescue) on thin soil over rocky acidic outcrop at Drinagh (T0534620078), this is the only record in the county for Sheep's-fescue identified to subspecies level.
Paula O'Meara found the variety: Solanum dulcamara var. marinum (Bittersweet) on edge of dune cliff, Kilgorman (T23186315), this prostrate variety has much thicker flesher leaves.
The first of the non-native species: Mahonia japonica, was found by Dara Kilmartin while taking part in the BSBI New Year Plant Hunt, on 2 January, at Donagh More (T2050).
Paula O'Meara found 6 further non-natives:
Centaurea montana (Perennial Cornflower), surviving where discarded on road verge at Cullenstown (S86022104); Eucalyptus gunnii (Cider Gum) one metre sapling self-sown out of rock crevice at Norrismount (T07685219); Euphorbia maculata (Spotted Spurge) weed of planted traffic island at Ballymoney Lower (T20376048); Lactuca sativa (Garden Lettuce) many plants surviving from dumped plugs on steep bank of arable field at Ballyknockan (T07833627); Sempervivum tectorum (House-leek) established on windowsill of derelict shed at Creagh Lower (T14456102); Trifolium incarnatum subsp. incarnatum (Crimson Clover) a small patch in set-aside field at Killowen (S69722032).
The other 6 new species were found by me, Paul Green:
Briza minor (Lesser Quaking-grass), plentiful as weed in broad bean field at Corbetsown (T0618949191). This is the first record for Ireland since 1859; Ceratochloa cathartica (Rescue Brome) small patch on road verge by farm at Ballyhast (T1052655018); Dicksonia antarctica (Australian Tree-fern) one self-sown on bank in wood, near parents in John F. Kennedy Arboretum (S7219); Helianthus tuberosus (Jerusalem Artichoke) a large patch on bank of river flowing into the sea at Donagh More (T2115950005); Nymphoides peltata (Fringed Water-lily) plentiful in pond in corner of field at Ballywalter More (T1662152703); a patch of Symphoricarpos x chenaultii (Pink Snowberry) on road bank at Clonjordan  (S92654642), where it was probably originally dumped and survived.
Other interesting finds of the year include: Drabella muralis (Wall Whitlowgrass) on bridge at Newtown (S834431) found by Joanna Hodghton, the fourth record for the county. Bruce Walker found one Filago vulgaris (Common Cudweed) in his garden at Screen (T080304), a new hectad record. While on a visit to the county, Eamon Gaughan found Melampyrum pratense (Common Cow-wheat) in Bigwood (S74963521), this is a new site. Cow-wheat is the most under recorded native species in the county, with 8 hectads with no record since 1990. Roy Watson came across a patch of Clematis tangutica (Orange-peel Clematis) established on the dunes at Carna (T1274906601), this is a 2nd county record. The Wexford Naturalists' Field Club held a Bio Blitz meeting in the grounds of Rosegarland (S8615) where Lemna gibba (Fat Duckweed) was found covering the surface of a pond, this being a new hectad record. Paul O'Meara found Erigeron acris (Blue Fleabane) at Enniscorthy (S96354118), this being the first hectad record since 1866, when it was the first Wexford record for this species. Shane Farrell came across Asparagus prostratus (Wild Asparagus) on the coast at Ballytrent (T1345308420), this is a new site on the east coast of the county for this rare species. The nearest site being from the dunes at Ballyteige Burrow almost 15km away.
Erysimum cheiranthoides (Treacle-mustard) is a rare species in the county and was found in five new monads during the year by Paula O'Meara, doubling the number of records since 2000. There are no reported siting for Treacle-mustard in the county between the years 1994 and 2013.