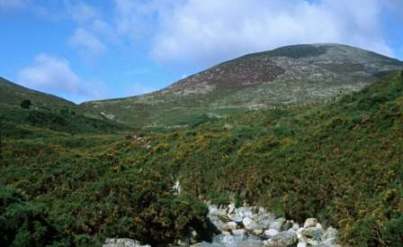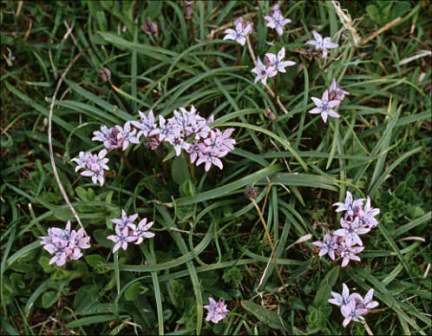 County Recorder
The County Recorder is Graham Day.
Tel: 028 9181 7710 (home)
Mobile on meeting days: 07764794687
Scroll down for the 2018 programme of field meetings.
Co. Down recording in 2018
Ad hoc field trips and monthly field meetings were organised to make records for the forthcoming new Atlas, and in support of the proposed flora of Co. Down. The focus was on under-recorded hectads and taxa of shorter flowering period. Six monthly meetings took place at Belfast, Newcastle, Slieve Croob hills, Crawfordsburn, Ballyhornan and Comber. Thanks to the members of the Ulster BSBI group for supporting these and the records accrued. I also give grateful thanks to Roy Anderson, Lesley Crawshaw, Margaret Marshall, Anne McComb, Ian Rippey, Suzanne Belshaw and Ian McNeill who sent additional plant records to me.
On the first day of January, despite wild weather, the new year plant hunt in Dundrum produced over 30 flowering taxa, including Erigeron karvinskianus (Mexican Fleabane).
The first monthly meeting, in late April at the Connswater Greenway yielded a colony of Galium album (Hedge Bedstraw) and several Poterium sanguisorba (Burnet) plants. Erophila verna ssp. praecox (Common Whitlowgrass) and Saxifraga tridactylites (Rue-leaved Saxifrage) were also seen.
In early May, walking from Chapel Island to Gores Island along the south shore of Strangford Lough Viola x bavarica, Cochlearia anglica (English Scurvygrass), Juncus inflexus (Hard Rush), Rumex hydrolapathum (Water Dock) and Catabrosa aquatica (Whorl-grass) were recorded.
Walking the Granite Trail at Newcastle for the meeting in mid-May produced Crassula tillaea (Mossy Stonecrop) at its most southerly station so far in Down. Also seen were Ulex minor (Dwarf Gorse), Festuca altissima (Wood Fescue) and in the quarry on Slieve Donard, planted Juniperus communis (Common Juniper). Arbutus unedo (Strawberry-tree) was still present at the well-known site by the Glen River, although its numbers seemed much reduced, and much of the surrounding forestry and scrub had been cleared.
Dryopteris cambrensis (Narrow Male-fern) was found on a meeting with the Belfast Naturalists Field Club at the Ulster Museum Cultra manor in mid-May, and saw us puzzling over Alchemilla filicaulis ssp. vestita (Hairy Lady's-mantle) on a lawn.
In late May, a walk in the dunes at Tyrella produced many of the specialities including Vicia lathyroides (Spring Vetch) and Erodium moschatum (Musk Stork's-bill).
It took some time to leave the car park for the monthly meeting at the Slieve Croob hills as several interesting species, e.g. Dryopteris borreri (Borrer's Male-fern), Myosotis discolor (Changing Forget-me-not) and Potentilla erecta ssp. strictissima (Tormentil) were found. The walk along the tracks from the Windy Gap was very pleasant in good weather, and many typical taxa were found. Blue Jasione montana (Sheep's-bit) and yellow Potentilla erecta ssp. erecta flowers on the walls of the tracks were abundant.
A joint field clubs meeting at Murlough NNR led by Jo Whatmough in early June was interesting and botanically rich. Finds included Carex pilulifera (Pill Sedge), Viola canina (Heath Dog-violet) and Salsola kali ssp. kali (Prickly Saltwort).
In late June, a report from Roy Anderson of Papaver nudicaule (Iceland Poppy) in Newtownards was confirmed. This was a probable first record for Co. Down. Matricaria chamomilla (Scented Mayweed) was also found at the site, a field used for storage of top-soil from a nearby construction site.
The walk along the Edith of Lorne Glen by Crawfordsburn in early July was notable for many Epipactis helleborine (Broad-leaved Helleborine) plants. Also recorded were Poa nemoralis (Wood Meadow-grass) and Heracleum sphondylium x mantegazzianum.
A report of a large flowering Crambe maritima (Sea-kale) from Anne McComb led me to Minerstown beach, where Mertensia maritima (Oysterplant), Polygonum oxyspermum (Ray's Knotgrass) and Atriplex littoralis (Grass-leaved Orache) were also seen - the last growing in an atypical situation where works on the road verge had taken place. Anne also sent records of Mertensia maritima and Glaucium flavum (Yellow Horned-poppy) from the Bloody Bridge coastal path. The former was of note because it had seemed to be missing from the well-known site for some years, perhaps due to sheep grazing.
In early August we were at Ballyhornan for the monthly meeting with the intention of visiting the Limonium procerum ssp. procerum (Tall Sea-lavender) station to the south. This proved to be one of the highlights of the year as there had been a significant increase in numbers, a colony of perhaps over one hundred plants covering a rocky strip about 50m long.
In late August I visited Mount Stewart where a field had been given over to wild flowers. It was a spectacular sight containing many introductions, but also plants typical of east Down agricultural soils which had taken advantage of the conditions. Agrostemma githago (Corncockle), Centaurea cyanus (Cornflower), Papaver rhoeas (Common Poppy), Poterium sanguisorba (Burnet) were seen and could be expected; but there was also Helminthotheca echioides (Bristly Oxtongue), and of the locals, Veronica agrestis (Green Field-speedwell), Lamium confertum (Northern Dead-nettle) and Solanum nigrum (Black Nightshade).
In early October, beaches in Carlingford Lough were visited as part of the CEDaR bio-blitz with the intention of recording Salicornia species and Atriplex taxa. A Greencastle salt marsh was notable for having two A. littoralis (Grass-leaved Orache) hybrids, A. littoralis x longipes and A. littoralis x prostrata.
In mid-October the meeting at the Comber estuary was rather disappointing, as Atriplexes were fewer than normal. I suspect many died during the very dry spell in May and June. Salicornia europaea (Common Glasswort) and Cochlearia anglica (English Scurvygrass) were found
In late October Anne McComb sent me photos of a plant growing in a car park in Ballynahinch which close examination proved to be Galinsoga parviflora (Gallant-soldier). This was a probable first record for Co. Down. Urtica urens (Small Nettle) was also recorded at the site.
On the last day of December, the new year plant hunt produced 49 taxa in flower in Portaferry, the most we have ever recorded in this event. Thanks to those braves who turned out!
Of the 42 hectads in County Down, 17 were visited in 2018. 115 new hectad records were made, mostly of non-native, sub-species and hybrids. 42 records were date-class upgrades from the previous Atlas.
The Flora of County Down
This is a new project, beginning in 2010, for 10 seasons, to record the flora of County Down for a proposed publication. A new date class will be used, Date Class 5 (2010-2019), as initiated by the BSBI. This would essentially require that there be new complete coverage of the county. Species will be recorded to 1 km or better, with mapping to 2 km squares.
The current status of records held on the database Recorder for County Down is:
Total vascular plant records for County Down: 237, 487
Date class 1: pre-1970:       6,411
Date class 2: 1970-1986:   17,520
Date class 3: 1987-1999: 105,397
Date class 4: 2000-2009:   71,754
Date class 5: 2010-2019:   36,405
No. of taxa: 1,872 [all status]