Following Government guidance and in the interests of health and safety, this year's field meetings are cancelled with immediate effect and until further notice. For further information please contact your County Recorder(s).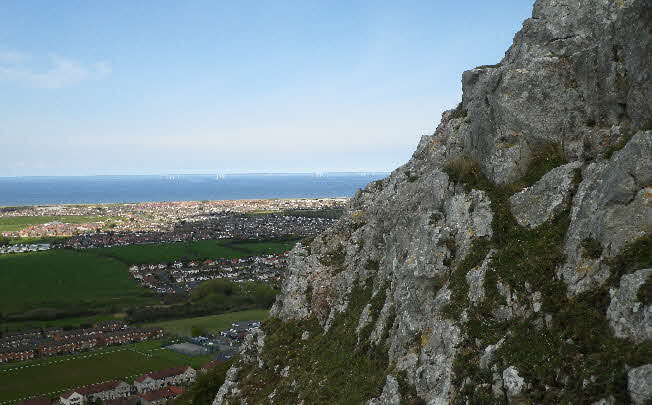 The county of Flintshire
Flintshire  is a small county in the north east corner of Wales. Bounded on the north by coast and the Dee Estuary and to the west by the Clwydian Hills. It has a diverse landscape with, the hills reaching 554 m and down to the lowlands in the east, where it borders the Cheshire Plains. A range of habitats can be found: dunes, saltmarsh, limestone grasslands, disused lead mines, woodlands, lakes, rivers, moorland and industrial sites.
Field Meetings in 2020
*NEW* Here is the 2020 programme of meetings for the BSBI Flintshire group.
All meetings aim to improve scientific understanding of the flora of the county as well as improving our plant ID skills and of course having fun! All meetings start at 10am and we expect to finish around 4pm, unless otherwise specified.  Everyone interested in wild flowers and plants is welcome, please bring yourself, your lunch and your favourite plant identification book.
March 21st
River Cegidog south of Treuddyn.  Can we re-find toothwort Lathraea squamaria along the R. Cegidog?  Last seen here in 1981, but still present along the River Alyn further downstream.  The area also has records for native daffodil, moschatel, ramsons, wood anemone, giant bellflower and other woodland delights.  If we have time, we can visit Coed Talon to look up old records of Scutellaria galericulata and Isoetes echinospora.  Look for more records too.
Meet at 10am at the car park on Queen Street, Treuddyn (SJ251581).
April 25th
In June last year, we visited the tetrad north of Leeswood.  Now, we visit Leeswood village and and woodland to the west in search of alternate leaved golden saxifrage and another record of toothwort.  Meet at 10am outside the Methodist chapel, King Street, Leeswood (SJ271598).  There is on street parking available in the village – please park considerately.
May 23rd
Halkyn Mountain to look for moonwort, Antennaria dioica, Thlaspi caerulescens, Sagina nodosa, Scutellaria minor, Cirsium acaule etc.  Meeting place to be decided.
June 20th
Site near Llyn Helyg, subject to agreement of access.
July 11th
Pantymywyn Pastures to study the fragrant orchids and decide which species we have in the county, also to admire the butterfly-orchids if they are still in flower and look for Alchemilla xanthochlora and Campanula trachelium.  The site is also known for its green-winged orchids and there are records of other interesting plants nearby e.g. Bromopsis erecta.
August 15th
Hendre Big Wood to look for Monotropa hypopitys, last seen there in 1996.  Also Bidens cernua. Meeting place to be decided.
September 19th
Prestatyn Hillside to look for Sorbus spp, wild juniper, Potentilla tabernaemontani, Serratula tinctoria, Silene nutans.  Meeting place to be decided.
Please get in touch with Gail Quartly-Bishop for any further info or with any questions you may have.